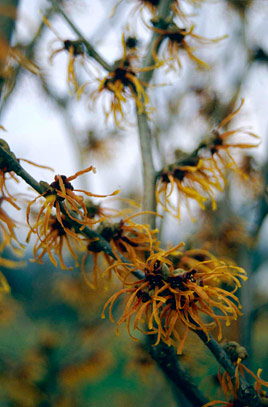 In the latest of garden designer Georgina Chahed's blog posts, she highlights her top five woody plants for winter interest…
When light levels and temperatures plummet, colour, structure and texture are essential for making your garden sparkle. Bring vibrancy and intoxicating scents to your outdoor space in winter by introducing some of these star performers:
1. Hamamelis x intermedia 'Jelena' (witch hazel)
A firm favourite, Jelena's buttery autumn foliage makes way for spectacular citrus scented spidery orange flowers in winter. Great teamed with the equally architectural and colourful dogwood; which has a contrasting, upright habit.
2. Cornus alba 'Sibirica' (dogwood)
Slightly below the radar, dogwoods deserve much more attention from gardeners. With arresting ornamental stems, Sibirica produces red winter shoots and large leaves when pruned in summer. With its graceful variegated leaves, Cornus alba 'Elegantissima' is also worth considering.
3. Sarcococca hookeriana var. Digyna (sweet box)
Digyna is dense, with a spreading habit, glossy evergreen leaves and purple-green branches. It produces very fragrant creamy white flowers in February, followed by black fruit. Plump for this hardworking shrub and you'll discover that it has plenty going for it, being both long flowering and hardy in winter weather.
4. Daphne bholua 'Jacqueline Postill'
Clusters of flowers open to pink heavenly scented winter blooms which last until spring. Daphnes are best situated in a sheltered spot and varieties such as Daphne odora are blessed with broad evergreen leaves too.
5. Callicarpa bodinieri var. giraldii 'Profusion' (Beautyberry)
I will never forget the first time I clapped eyes on Beautyberry in Bushy Park in Kingston – I went straight home and looked it up. With clusters of showy violet berries, this winter jewel shouts unapologetically, "Look at me!" Adorned with small lilac-pink flowers, its young purple lance shaped leaves turn rosy-pink in autumn. The shiny, vibrant fruits mean Profusion is ideal for placing centre stage, in front of a window. The berries also provide food for birds and animals. Cosset this diva with shelter and companions to pollinate her and you will be richly rewarded.
Remember to check that the eventual height and spread of your chosen shrub is appropriate for your garden. Also, be sure to select plants suitable for the soil type and horticultural conditions you have.
What are your favourite plants for winter interest? Leave a comment, I'd love to know.
Touch Landscapes designs gardens with year round interest. Call 07872 590 303 or email info@touchlandscapes.com to discuss your requirements.
admin January 5, 2015
Posted In: Uncategorized
Tags: Bushy Park, garden design, gardening, Kingston, SHRUBS, surrey