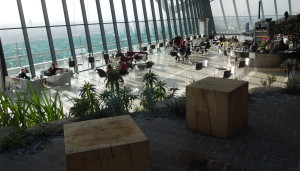 In Touch Landscapes' latest blog, owner and garden designer Georgina Chahed takes a critical look at London's newest public space
Officially opening to the public for the first time in January, I visited the Sky Garden last Monday, keen to explore the exotic planting. Located at the top of the Walkie Talkie at 20 Fenchurch Street, the Sky Garden boasts stunning 360 degree views of many of the capital's most popular landmarks including the BT Tower, the Gherkin, the Shard and St Paul's Cathedral.
The view is really the best thing about the Sky Garden. The press have only given lacklustre reviews of the space – disappointed that it isn't the public park in the sky and that we'd all hoped for.
Yes, anyone can visit providing they've booked in advance and if you have an afternoon free and fancy a special meal in a unique location, then the Sky Garden's Fenchurch Seafood Bar & Grill would certainly appeal.However, the thought of anyone taking their dog for a walk, going for a run or meeting friends for a picnic here seems absurd – even though this is the kind of normal behaviour you would expect in a public garden.
Fronds in high places
That said, organisations including landscape architects Gillespies, landscapers Willerby Landscapes, nursery Kelways and plant experts Kew have done well to meet the logistical and horticultural challenge of making this garden in the sky a reality.
The planting consists of two high banks of aeoniums, cycads, grasses, maidenhair ferns and tree ferns. There are pockets containing intimate seating areas but hopefully the plants will be allowed to fill in and bulk up over time to soften the corporate feel of the space and provide more of a feeling of enclosure.
The only way is up
In terms of endowing London with more green public spaces, the Sky Garden has turned out to be more of a sentiment than a solution. London may be geographically and metaphorically a million miles away from the acclaimed garden city of Singapore, but projects such as the Garden Bridge will do well to fuel our appetite for innovative and inclusive city gardens, offering hope for the future of urban garden planning in the UK.
Have you visited the Sky Garden yet and if so, what did you think? Please leave a comment, I'd love to know.
Touch Landscapes designs gardens with year round interest. Call 07872 590 303 or email info@touchlandscapes.com to discuss your requirements.
admin February 9, 2015
Posted In: Uncategorized
Tags: architecture, garden design, gardening, horticulture, Kew, landscape architecture, London, Sky Garden, Walkie Talkie