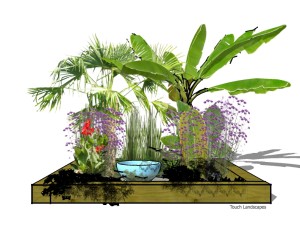 Newcomer to the world of garden design, Georgina Chahed will be realising her vision of a subtropical border entitled 'The Teacup Garden' at BBC Gardeners' World Live (11-14 June 2015). Georgina Chahed set up her practice Touch Landscapes in December 2013 and the Teacup Garden will be her first Royal Horticultural Society (RHS) display.
Beating off competition from rivals, the design has been given the green light by show organisers, the RHS. Working to the category theme, the 'Industrial Heritage of the West Midlands', the design takes inspiration from the rich heritage of Wedgwood. Garden designer Georgina Chahed commented: "I wanted to bring a sense of excitement to my border and celebrate the legacy of the master potters who made their name in the West Midlands.
Centring around a teacup water feature and stone saucer, a distinctive blue and white colourway has been used, giving a nod to Josiah Wedgwood's original Jasperware ceramic tea sets. Capitalising on this year's trend for tropical plants, a blend of lush and subtropical plants will be used to soften the hard landscaping.
Georgina Chahed continued: "With exotic tea growing regions in mind, I will predominantly be using plants suited to slightly moist, fertile soils. By selecting the right plants and ones that suit a garden's conditions and soil type, a tropical border can be incorporated into many UK gardens."
Grasses and ferns will intermingle to fill the space, punctuated by vibrant purple and orange flowers, including hardy groundcover favourite Geranium 'Rozanne' ('Gerwat') and the majestic Canna 'Phasion' with its dazzling striped leaves. The evergreen variegated giant reed Arundo donax versicolor will lend movement and height to the space. Striking Musa basjoo and Trachycarpus fortunei specimen trees promise to add impact and structure to the border, elevating the planting to a whole new level.
Now in its 23rd year, BBC Gardeners' World Live, held at the National Exhibition Centre in Birmingham, is the largest lifestyle event in the UK, attracting around 100,000 visitors in June every year.
admin March 16, 2015
Posted In: Uncategorized
Tags: Birmingham, exotics, garden design, gardeners' World Live, gardening, horticulture, landscaping, NEC, show garden, subtropical