Less than one week until the build commences for BBC Gardeners' World Live, Touch Landscapes' principle designer Georgina Chahed gives a progress report on The Teacup Garden…
The finishing line is in sight. Give or take one or two niggles, I'm feeling upbeat about our show border so I prepared this blog to fill you in on what's been happening over the past few weeks.
Queens of the Stone Age
The stone circle has arrived and I'm happy to report that it's a really handsome sandstone! The central paver is vast and couldn't be lifted, so we placed a thin track of packaging across the floor and gingerly rolled it over the fibre pieces and into the studio.
Nursery Stories
Following the trip to our main nursery, I spent some time analysing the plant composition again. It's easy to panic at this stage and randomly add in extra plants that look nice, without paying attention to what they add horticulturally. With this in mind, I've resolved to focus more on colour and pay extra attention to my middle tier of plants. With these subtle amendments I feel we've moved a step closer to having a truly winning plant combination.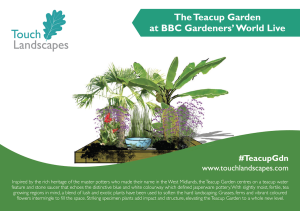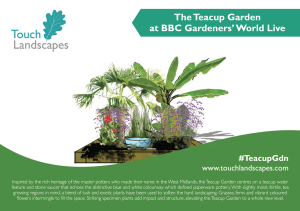 The latest development, our show leaflet, is now ready. Here's a sneak preview, pictured above. Now the search is on to find the perfect mulch…
BBC Gardeners' World Live is taking place at the National Exhibition Centre from 11-14 June 2015 and I very much look forward to meeting you at our Teacup Garden.If you haven't already booked your tickets, then now's your chance. Horticultural serenity is just a click away…
admin June 1, 2015
Posted In: Uncategorized
Tags: BBC Gardeners' World Live, beautiful borders, garden design, landscaping, NEC, Royal Horticultural Society, sandstone, show garden, Stonemarket, subtropical, Teacup Garden