Home of the world's first infinity pool and 100 trees and shrubs per resident, Milton Keynes has always blazed a trail in landscape design…
As Touch Landscapes opens a new office in Milton Keynes this summer, the city marks its 50th anniversary. Demand for a new town in the Oxford-Cambridge corridor led to this London overspill town being built. Given the Government's recent announcement of the creation of 14 'garden villages', it's useful to reflect on how Milton Keynes became a leading example of exemplary garden planning.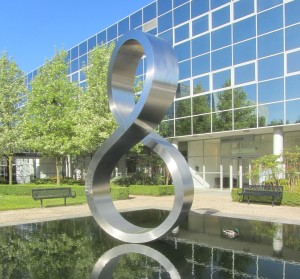 Greening up the city
So where did it all start? Milton Keynes was founded in the late 1960s, at a time of optimism, ambition and technological innovation. By 1967, the media were describing the lack of social amenities and division of social classes in new towns such as Crawley and Stevenage as 'new town blues'. Planners complained that these earlier new towns had been built with no flexibility or space for organic growth.
Milton Keynes would be the first of its kind. Richard Llewelyn-Davies, who led the architectural team responsible for the city's Master Plan explained that a city had to be designed with as much freedom and looseness as possible. His plan designated 40% of the town to green spaces. He planned a network of roads connected by roundabouts. Milton Keynes's grid curved with the contours of the land. Although designing for climate change was ahead of the curve in the 1960s, Milton Keynes would have linear valley parks with lakes to hold floodwater.
In 1970 architect Fred Roche moved to Milton Keynes and became general manager of the Milton Keynes Development Corporation. He presented his plans to the Department of the Environment and insisted builders construct at the outer edge of the grid first. Milton Keynes would be of the scale he'd originally envisaged, not compromised by future funding cuts.
Milton Keynes defied 1970s austerity because it was built using public money. The Government lent the corporation money, and the corporation could return its investment because it was entitled, under the New Towns Act, to purchase land at agricultural prices. As soon as this land was developed, it became far more valuable: and the profit paid for Milton Keynes's infrastructure.
At the centre of Milton Keynes's infrastructure lies the city centre and Midsummer Boulevard. On this tree-lined street the sun rises at its east end on the summer solstice. This was no accident. In the early 1970s, architects consulted Greenwich observatory to obtain the exact angle required at their latitude in Buckinghamshire and then talked engineers into shifting Milton Keynes's grid of roads a few degrees.
Roads were raised or sent below ground level so streets could be devoted to pedestrians. The Centre MK shopping centre was designed as a centre of broad boulevards edged in expensive Cornish granite and populated with London plane trees.
The Government wound up the development corporation in 1992, the year of Fred Roche's death. Milton's Keynes's population had swelled and the corporation had achieved its goal: the town was an economic and popular success. Its population then went on to increase by 18.1% between 2004 and 2014, exceeding its 250,000 target. The company left notable legacies, such as the much celebrated Parks Trust, which was created to nurture Milton Keynes's bountiful open spaces and still does, funded by rent from property owned by the corporation.
Although the council has also benefited from bequeathed land that has helped finance the city's infrastructure, from now on, just like everywhere else, new developments must be funded by the private sector.
Earth matters
The land on which Milton Keynes was built was originally marshlands, hedgerows, ancient woodland and wildflower meadows. The design of Milton Keynes took inspiration from townships in The Netherlands that adopted a naturalistic approach to landscaping, deploying native species in housing areas. Houses and industrial estates are often secluded and flanked by grassy banks and thickets of willow, pine, dogwood and roses. Today, Milton Keynes has more than 22 million trees and shrubs, around 100 for every resident.
Roses thrive in clay so are a sound choice for Milton Keynes gardens with heavy clay soil. Fertile, but slow to drain and susceptible to waterlogging, clay soils can be improved by digging in bulky organic matter or grit.
By contrast, some Woburn Sands homeowners can expect to find a greensand soil in their garden, which is deep and well drained. Less fertile, this type of sandy free-draining soil benefits from the application of organic matter to improve moisture retention. Whatever soil a gardener has been gifted with, it's always better to select plants, which thrive in their local vernacular, rather than working against it. "Right plant, right place" is our philosophy.
Cultural adventure
Sculptures punctuate the abundant trees and shrubs in Milton Keynes. There are about 50 public works of art, including the famous concrete Friesian cows created by Liz Leyh in 1978. During their lifetime the cows have led a rather eventful life. They have been stolen, placed in compromising positions, vandalised, decapitated and then repaired. No stranger to controversy, the cows have often featured as headline news in the national media, keen to brand the city with a rather quirky image. Situated by the Milton Keynes Museum, the cows continue to be visited by dog walkers and passers by. Children cannot resist climbing on these lovable beasts.
Produced by artist Wendy Taylor, the sinuous figure of eight, Octo infinity sculpture was first unveiled in October 1983. Octo is a continuous ribbon of stainless steel and is a memorial sculpture dedicated to Llewelyn-Davies. More recently produced, the Leaping Man Olympic tribute sculpture by artist Clare Bigger in 2014, celebrates the success of Woburn Sands' athlete Greg Rutherford.
Cutting-edge design
In The Centre: MK's open square, Stuart Mosscrop, one of the shopping centre's designers, was criticised for spending too much on a futuristic 'infinity pool' edged in Cornish granite. "We're investing money, not spending it" he told the permanent secretary of the day. His expensive pool was ripped out in 2010, shortly before English Heritage could list it. Its turquoise water as been replaced by a barren plaza of fake grass and imported black granite.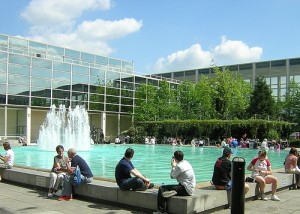 Of course the public areas in Milton Keynes's city centre contrast wildly to the historic gardens in the surrounding areas.

World's first landscape gardener
Woburn Abbey & Gardens, close to Woburn village is perhaps the most famous landscape in the area. Designed by Humphry Repton – the first person to call himself a landscape gardener – the gardens were well known for their Victorian style. The 6th Duke commissioned Repton to enhance the gardens at Woburn Abbey in the early 19th century and Repton's 'Red Book' of designs included plans for a rockery and a pavilion as part of the formal 'Pleasure Grounds'. Inspired by Repton's original designs, in 2014 the estate team restored and recreated Woburn Abbey Gardens.
The designs were brought to life and the current gardeners restored the rockery and commissioned the construction of a majestic pavilion. With so much to see and do today, Woburn Abbey Gardens also offers a hornbeam maze, Chinese dairy, restored aviary, contemporary bog garden and more.
Grand designs and controversy
On the other side of Milton Keynes, Stowe House in Buckingham is a grade I listed house set in 250 acres of fine landscaped gardens filled with lakes, temples and monuments. Stowe is named after a small Buckinghamshire village of the same name. In 1589 John Temple purchased the Stowe Manor and estate.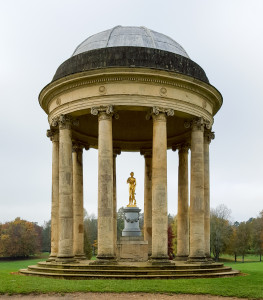 The gardens and parkland were controversially expanded, absorbing some of the nearby villages. The creation of a private deer park at Stowe in the 1630s and 1640s brought the Temple family into conflict with neighbours, who contested the ownership of the land, as well as tenants, who were deprived of their traditional access to the forest to gather kindling and graze livestock.
Lord Temple's large deer park had multiple purposes. It allowed existing views to be extended and protected from development, hunting opportunities to provide the family with meat and enhanced the social standing of the family.
In 1712, Stowe consisted of 32 houses and 180 residents but as the original estate expanded, the village was absorbed until the only remaining feature was Stowe Church.
From 1720s-1748, many garden designers were employed at Stowe. Each experimented with styles for which they would later become famous, helping to make Stowe what it is today. Lord Cobham liked to work with the most fashionable forward thinkers of the time. These included James Gibbs, William Kent and Lancelot Capability Brown to name a few. Stowe's gardens enabled Cobham to show off his immense wealth and good taste.
Since 1989, Stowe's gardens have been in the hands of the National Trust. 2015 saw the start of a new phase of restoration for the gardens at Stowe. Steeped in history, the gardens continue to evolve.
Of course Milton Keynes remains very much at the forefront of landscape design and is a leading light in combining green spaces with conurbations. As the first place in the UK to require all new developments to be carbon neutral, it is also now a global leader in low carbon living.
In the pipeline is a new £4.5 million pavilion for Campbell Park. Attracting visitors and enhancing the environment for the local community, the building will feature natural timber and rainwater gardens, whilst offering appealing 'vistas'.
Today, Milton Keynes is one of Britain's greenest and fastest growing towns. In the age of austerity, other UK conurbations are looking at Milton Keynes's landscape planning legacy to see if they can emulate it.
Georgina Chahed July 20, 2017
Posted In: Uncategorized